……no really I did 🙁
But by God's grace He showed me where I need to be. Indulged with His word and chilllllin out.
He showed me that all day and I pleased to say that I am thankful for the departure of the phone.
None the less the show at Jammn' Java was worth it…..honestly.
My best friend Emily and I had another amazing night watching people play music with their heart.
this is my opinion of the show of what i felt, saw and heard. with respect of the artists of course 🙂
First off:
ATOMIC TOM
I know singer Luke White's brother Gabe, we are part of a ministry here at Mason.
Gabe's band is in the making of recording….i'll get details from them soon and we have talked about them hitting up the station as soon as things are solid 🙂
*the performance, no doubt they brought a full house. (SOLD OUT)
I have never seen Jammin' Java that full. The majority of their fan base are adult men, much like U2 or Cold Play's fan base. Not a bad thing at all.
Seriously, each member of the band have stage presence that is attracting and energizing…to those that are familiar or unaware of them.
I liked when I heard Luke say, "Come chill with us after the show, we wanna know your name" – that made me smile because that simply said "we wanna be your friend"
Emily and I took a fabulous picture with Luke and I noted that I knew Gabe. I spotted Gabe and said 'Hi'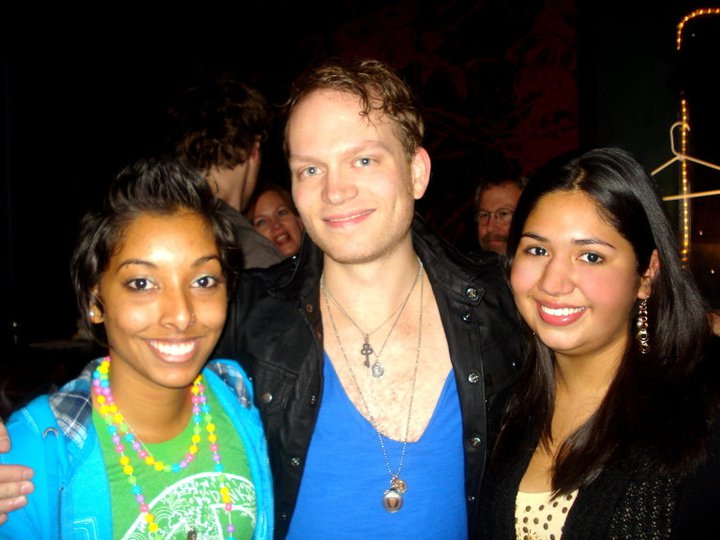 _______________________________________________________________________________________
As Emily and I waited to have our picture taken with Atomic Tom we noticed a group of guys sitting in a corner with dread locks….
Next thing we saw a merch table set up aka 'network' – yall know this is my heart
"Super Bob" formally know as "Bob" (apparently the fan bases B.O.B and Bob collided and the local band Bob had to change their name and simply added the 'Super' to the name.)
Talked to Matt, singer, mentioned the station and Curtis their manager has worked with WGMU before a couple years ago.
Interesting!
These are my notes during the show:
*******1st band*******
rebel inc.
From: Baltimore, MD
-Instrumentally hardcore – good live sound
Has stage presence, both instrumentally and vocally
Singer – vocals wonderful during the 1st song, after that I felt like it weakened.
style – Rap much like FloBots = fast and strong message
– their message – Destroy the Goverment
-Singer wore a shirt saying "End The Fed"
Stage plot: An American flag in black and white with a banner saying SOLD over it.
Quote: "Your voice, my voice, your freedom, my freedom"
"If you don't come close to the stage, your a terrorist"
This was offending but I respect their views.
*****2nd band******
Fight The Lion
From: Alexandria, Va
-They have a sponsor. = awesome
Intsumentally – same full set band
sound nothing different BUT they were catchy
vocally, has a range…much better for acoustic settings I think, he plays a 12 string guitar so I am sure he can easily do solo work in the future.
Ethnically diverse band, big plus***
Lyrics that caught me: "Gotta take what you got"
****
Improvements:
Add techno beats or integrate a piano play to this band; this would spice it up.
*****Head liner*****
Hands down….worth waiting till 12:30am to see their performance.
Only downfall would be the profanity, a bitt too much.
I am down for Eminem ANY DAY, I am just saying.
They brought a crowd….I am sure it was a full house show!
the audience knew who they were in for….a party!
Emily and I felt the energy in the room and we had not idea what we were going to witness.
Dreads, instruments, passion and excitement equipped on stage Supper BOB tore Jammin Java OUT!!!!
Wonderful energy….its been a while that I had been to a show with that much energy!
Instrumentally; metal and hardcore – good acoustics at Jammin' Java for real!
Vocally, Matt is a very talented artist. He draws the crow in with his eyes and smile grabbing everyones attention.
– style; much like rebel inc. the raping, ska, raw beat delivery.
When I walke closer to the stage I was able hear Matt's voice clearly.
-their message: Be who you wanna be and push everyone aside. (I can testify to that)
-it's a positive message, I'll need to look deeper into their lyrics to say any more.
They are going to be recording next week in FL
****lyrics are most important to me…so i'll have to dig deep into their music to give you a clearer answer as to their message*****
********************************************************************************
At the end, Emily and I left at 2am sweaty, ready to jump in a warm bed and made plans for our next show!
hahahaha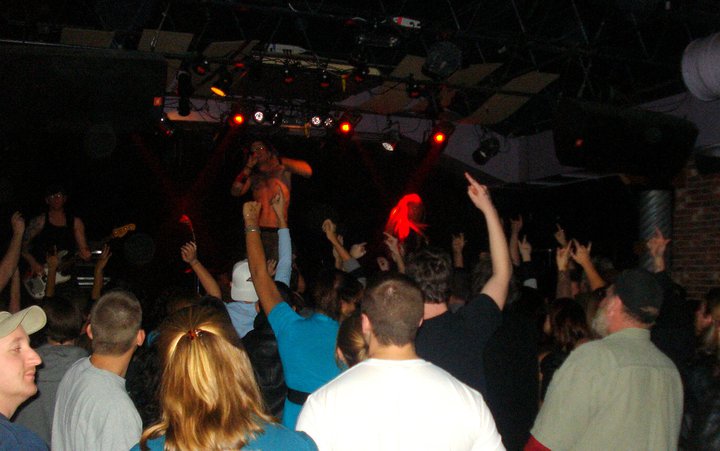 GOOD CROWED
Oh… I also walked out without a cell phone…so yeah. 🙁
I have another one getting shipped!
Peace yall, i'll post another blog after my next show…
may be tomorrow…ya know me! 🙂
***********************************************************
this is my opinion i recorded what i felt, saw and heard. with respect of the artists of course 🙂
Always Love Love,
Aisha